We are a family owned and operated facility with over 80 years in business. As one of Missouri's largest equine facilities,  we feature approximately 5000 Acres of trails, and support a wide variety riding and training styles. Please browse around our website or stop by our facility and we'd be more than happy to show you around.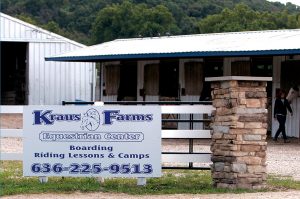 Kraus Farms began business in 1936 as 66 Riding Stables, twenty miles from St. Louis and accessible to city cowboys by the famous Highway 66.  Ben Kraus and his business partner offered hay rides, boarding and rental horses on 200 leased acres that included the property now owned by Valley Mount Ranch as well as the present Kraus Farms property.  We've now been in business for four generations!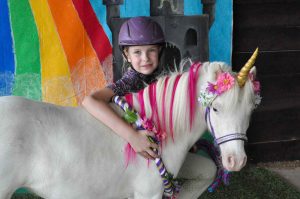 New! Birthday Party Room!
Host your birthday or special event at Kraus Farms!  Rent our private birthday party room and enjoy fun optional services like a trail ride party, unicorn party, horseback riding lessons, pony rides, miniature horses, barnyard animals or combine services!
Kraus Farms Equestrian Center's summer and holiday camps offer convenient, fun, educational programs teaching students about horses with a day of riding and other horse related activities.  Our instructors stress safety, horsemanship, and enjoyment as the most important elements of the camp. In addition to riding, your child will learn how to groom, saddle, bathe, and care for a horse. When the children are not in the barn they are participating in games, crafts and educational presentations. 
Come join us on our nearly 5000 acres of serene forest trails.  Great for groups!
Kraus Farms offers Group, Semi-Private and Private riding lessons in English and Western style riding as well as speed riding events.  We have lessons (and horses) to accommodate every skill level!
Kraus Farms offers full care boarding and pasture boarding with access to veterinary care, shoeing, hay, water, and more.
Taking lessons has not only helped my child learn to ride and care for horses, it has increased her confidence in herself and her abilities!  We truly appreciate the care and attention she received from Kraus's expert instructors!
Subscribe to Our Newsletter
Sign up to receive updates, news, discounts and special offers from Kraus Farms!